It's been a while since I did my 1st lust list, so I thought I'd let you know what I've bought from the list, and what I now have my eye on. So to my original list:

RapidLash Eyelash serum - I bought it in the run-up to a few big events, and it works a treat, I've had people telling me it looks like I'm wearing falsies, my eyelashes look THAT long. Win!

MAC Eyeshadow in Club and All that Glitters - I've bought Club, but not All That Glitters (I have far too many neutrals and champagne shades to justify buying it right now). Club is great, but I'm not sure how to wear it, any tips?

A red lipliner - Done, it was a No.7 one, since it matched closest to my red lippie (also from No.7 surprisingly), it lasts really well, and when I wear it I feel so glamorous, like Joan from Mad-Men :P

Sleek palettes - I ended up buying the Original, Storm and PPQ palettes. Best. Buy. Ever. And that's about it really lol!

So what would I like to purchase now? Well let's see...

1. Urban Decay's Smoked Palette. As yet I have no idea when/if this will be available in the UK, but look at those shades!! I wasn't that fussed by the Naked palettes, but I am fussed by this...
2. Chanel Rouge Allure Velvet in La Fascinante. Every girl needs a really nice red lippie (to go with that nice LBD and THOSE nice shoes and with all the other girlie essentials!) and since I will never be able to afford a Chanel 2.55 handbag (unless I clean up at the Euromillions tonight... a girl can dream!) I'll stick with investing in some gorgeous Chanel lippie. This will probably be a duty-free purchase when I go on holiday in just under 5 weeks time.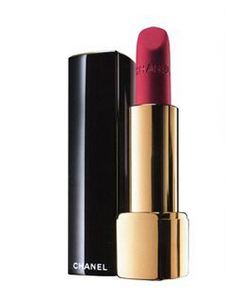 3. Lancome Genefique Youth Activator Serum. Now I know what you're thinking. Yes I am only 23 (24 next month) and have no real wrinkles, just some scars and visible pores. But this stuff is BANANAS! It is amazing on my skin. I have oily skin, really oily, but when I used this, I glowed without getting greasy, and my skin just looked 1 million times better (which is impressive because my skin's pretty good as a general rule. Only sticking point for me is that the cheapest bottle is around £50 (ooooooowch!) Again, maybe a lottery win :P
4. Sleek Glory i-Divine palette. It's just so pretty, and now everyone has it and has said it's awesome so now I want it!
What about you guys? What do you have your eye on buying?
Christina xo