Hey everybody!
Sorry for the short hiatus with my 10 Day You Challenge; I was staying at my parents' on Tuesday before heading to an exciting work-related meeting on Wednesday. I'll explain more later, as both places I went to feature in my post.
Today is all about 6 places and I'm taking this to mean that I can talk about 6 places that are important to me. Not necessarily favourites, but places that have some meaning for me. And now my 6 places are...
1. Glasgow - I harp on an awful lot about how much I love my home city. But there's the clue: it's my home. It will always be my home; where I was born, grew up, educated (both in school and in life) and where my family and friends mostly live. It's just where I want to be :)
I grew up somewhere just outside the middle left of this picture, in Glasgow's West End. That's where I was on Tuesday, having a girly pub-crawl with my mum around the West End.
2. Puerto Mogan, Gran Canaria - Last year, the lovely folk that deal with taxes realised that Kris was due a tax rebate... to the tune of £1300! And Kris decided that the best way to spend was to book our first holiday together and we settled on Puerto Mogan on the southern tip of Gran Canaria. This place has a lot of significance in Kris' family; Kris' dad remarried here (on a boat in the Atlantic, mega romantic :P) and we could see why; it's an absolutely gorgeous little fishing town. I would love to go again, Kris and I had such a relaxing time and we loved every second.
Sorry if this picture shows up huge, couldn't find a better one!
3. Home - The little flat I share with Kris in Kirkcaldy may suffer from the fact we live in, y'know, Kirkcaldy, but it's ours and it's a lovely flat. I will be sad to leave it when we eventually move, but I see it as the first place Kris and I started to build a home together and a symbol of the stage in our relationship where we became even closer and stronger together as partners (in crime haha!).
This was Kris in our kitchen sharing our first Christmas together alone (I had to work Christmas Eve and Boxing Day so we didn't get to go home but we still had a fab Christmas together!)
4. Crianlarich - Kris' dad and step-mum live in Crianlarich, where Kris' dad runs a guest house. It has to be one of the tiniest towns in Scotland (but it's signposted everywhere) but it's played host to a lot of great memories for Kris and I. My first weekend away with Kris was here, the same weekend we decided we were officially a couple and also when I got my degree results (a 2:2 in English Lang and Lit!!). It is also where Greg and Charlie (Kris' dad and step-mum) had their blessing ceremony for family and friends after their wedding in Gran Canaria.
This is the blessing party outside the Crianlarich Hotel (I believe it's a Best Western, and it's well worth a stay if you want to explore Loch Lomond) and that's me in the flowery pinky/reddy dress behind the beautiful bride Charlie!
5. New Struan School, Alloa - Yesterday, I visited the specially-designed school for autistic children which is run by Scottish Autism (charity I work for), New Struan in Alloa. I'd been invited after meeting Scottish Autism's Director for Education at a conference (nicest guy ever and loves going to gigs :P) and he gave a tour of the school and I met some of the 40 pupils at the school. It is an amazing place doing fantastic work; these are 40 pupils with the most challenging cases of autism in the country and all the children there are well supported. The staff are passionate and the work they do is fantastic; it made me see how much difference a great support package can make in someone's life, and I can imagine it helps families and siblings as well. It's made me realise I want to do even more to support Scottish Autism, so fingers crossed I get that chance!
If you want to find out more about New Struan School, please click
here
:)
6. Barcelona - My first holidays abroad were spent in Cambrils, a fishing town outside of Salou (which is now a horrible 18-30s hole). One of the trips we went on was a tour of Barcelona, visiting the zoo, the Nou Camp, Las Ramblas, La Sagrada Familia and the fountains. It's a beautiful city and I would love to go back again as an adult to explore. :)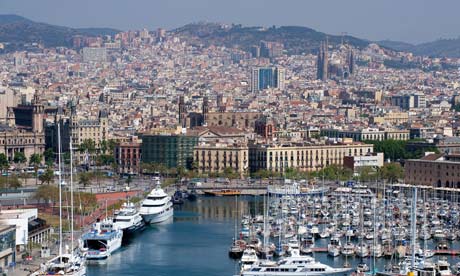 So those are my 6 places :) I would love to see what your 6 places would be, feel free to take part in the challenge if you wish!
Christina xo