Hey there readers :)
Today's the 2nd day of the 10 Day You challenge, and today I'm sharing 9 things/people/places I love. So without further rambling...
1. Breakfast - my favourite meal of the day is breakfast. I love bacon sandwiches, fry-ups, smoked salmon with scrambled eggs, pancakes with maple syrup, even Shreddies or porridge. I just love a good brekkie to start the day!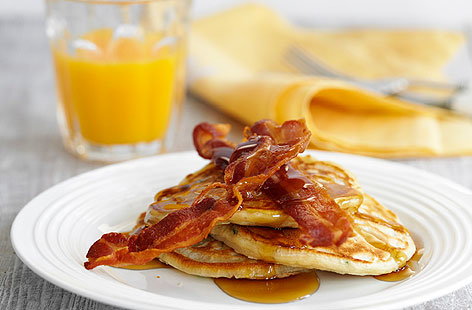 2. Anime - I've recently started watching anime films and TV series thanks to Kris. My favourite so far has been Spirited Away. Spirited Away is about a little girl, Chihiro, who moves house with her family and they discover a fantasy world with spirits. It's a little bit of a love story too and it's completely beautiful, so I urge everyone to watch it!
3. Chanel make-up. I only have a few items of Chanel make-up in my collection: an eyeshadow duo, an Illusion D'Ombre shadow and my beloved Rouge Allure lipstick, but I love them all and I want more! I think Chanel is synonymous with complete class and beauty. I've (kinda) made peace with the fact I'll never own a 2.55 handbag (unless I win the lottery or get a huge tax rebate) so I like treating myself to their make-up since it's reasonably affordable.
4. Gin - I absolutely love gin and it's my favourite alcoholic drink. It's so refreshing if served correctly; for example and Hendricks and tonic with cucumber is fantastic on a summery day. And my most recent discovery is a Thai Orchard cocktail from a bar in Glasgow, Bar Gumbo. It might sound like an old-lady drink, but I think gin's lovely.
5. Glasgow - I love my home city and I cannot wait to move back (just waiting on somebody giving me a job down there!) There's always something going on or somewhere new to try; it's just such a vibrant city. Gets a bad rep which is a bit unfair since we Glaswegians aren't all drunken louts who get a bit stabby. If you want to find out more, come visit!
6. Tea - I love tea. Green tea, breakfast tea, apple tea, all tea! I'm drinking some strawberry and blueberry green tea as we speak (from Whittard's - it's very tasty, I highly recommend it!) Below is my tea collection...
7. Literature - I love reading and it's something I need to get back into. My favourite writers are Alasdair Gray, Edwin Morgan (If you've never read
Strawberries
then you need to NOW!), The Bronte sister (if you're an idiot Twi-hard or obsessed by 50 Shades of Grey then I advise you to read "Wuthering Heights", "Jane Eyre" and "Tenant of Wildfell Hall" and then tell me Stephenie Meyer and EL James aren't plagiarising lying cows.)
8. Runrig - I get slagged off for liking these guys, but I think they're awesome! I'm a Bruce fan rather than a Donnie fan (Runrig fans will know what I mean) and honestly think their drummer Iain Bayne is the best drummer ever. Have a listen and see if you like:
9. Kris - I know I know. Really soppy but if we're going to talk about loves I can't not mention Kris now can I? I do live with him after all :P We'll have been together for 3 years at the end of this month and I still think he's as awesome and lovely (if not more so) as the day we met for the first time in Rab Ha's in Glasgow. He keeps me on the straight and narrow, he's funny, intelligent and utterly brilliant and I love him so much it's terrifying. I'll pass you the sick bucket now...
So those are 9 of my loves :) what things/people/places do you love?
Christina xo